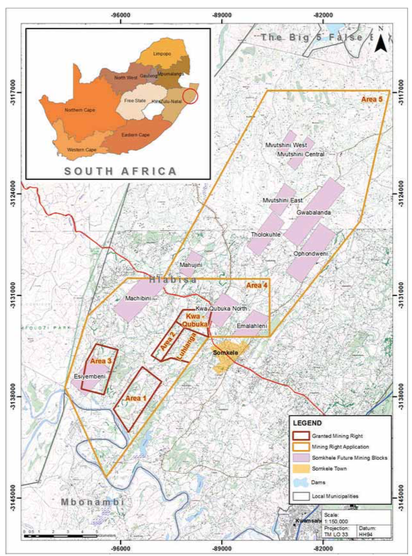 Our ​appeal​ against the issuing of a 222 square km mining right (Area 4 and 5 on the map) has been rejected by the Minister of Mineral Resources.
On 31 August 2017 the Mfolozi Community Environmental Justice Organisation​(MCEJO) ​and Mr Sabelo Dladla (the late Mr Gednezar Dladla's son) submitted an ​internal appeal​ to the Director-General of Mineral Resources against a decision made by the Regional Manager, KZN, to grant a mining license to Tendele Coal Mining at Somkhele for a new mining area in excess of 222km2 .
The grounds of the appeal were that the expansion of this open cast coal mine on the border of the Hluhluwe-iMfolozi Park will result in unacceptable pollution, ecological degradation or damage to the environment; that no environmental authorisations have been issued for any part of the 21 233.0525 hectare mining right area; that there has been no consultation with interested and affected parties; and that there is non-compliance with the KwaZulu-Natal Heritage Act and National Heritage Resources Act. The documents that formed part of the application process requested a mining right for an area of approximately 32 km2 and yet an area of 222 km2 was issued.
The applicants had also requested that the mining right be suspended pending the outcome of the appeal.
On the 19 June 2018 notice was received that the appeal had been rejected by the Minister of  Mineral Resources on the following grounds:
"The application was rightfully adjudicated in terms of the now repealed section 39 of the MRPDA, read with regulations 49.50 and 51."
"The amendments in both MRPDA and NEMA do not apply retrospectively and the acting DG rightfully considered the provisions in the unamended MPRDA."
"The regional manager has confirmed consultation with interested and affected parties."
Documents
Notice Of Appeal Against The Granting Of Mining Right KZN 30/5/1/2/2/1004MR To Tendele Coal Mining Pty (Ltd) . pdf
Letter to DG re mining in KwaqubukaNorth 8 March 2018.pdf
Letter from Minister dismissing appeal.pdf