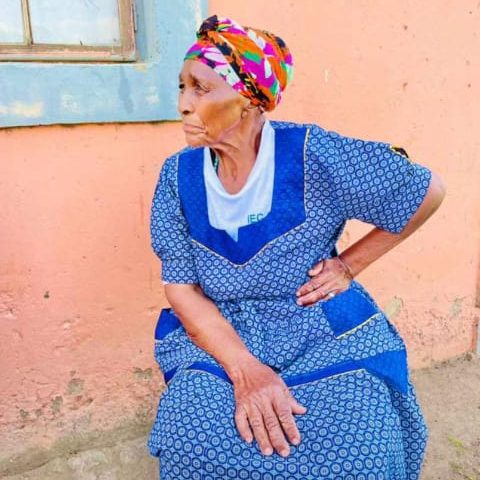 Warm, Loving and Wise…These three words best describe Gogo Ndlovu according to the GET research team who are interviewing elders in Somkhele to learn what life was like in the area as far back as the 1930s. Sadly, on the afternoon of 16 November, Gogo Ndlovu passed away, a couple of weeks after she had been interviewed. She was 85 years old. 
Ntokozo Ndlela, who heads the research team, reflects that: "Meeting Gogo Ndlovu was a huge privilege not only for me but also for the other members of the team, Namiswa Mdletshe and Malungelo Xakaza. She welcomed us warmly and gracefully and stole our hearts with her beautiful smile. We will ensure that the knowledge that she shared with us will live long, not only for us, but for our future generations."
For Ntokozo the experience of interviewing the elders has revealed how important elderly people are universally. "They are our link to the past and to our roots. Without them we are lost souls."
Namiswa, a resident of Somkhele, was inspired by Gogo Ndlovu's comments about the freedom that comes with owning land and the freedom it gives one to plant anything high-yielding on your land. For many years, Gogo Ndlovu's family in KwaMyeki found joy in planting cotton and sugarcane at their homestead, two lucrative cash crops before drought became a problem in the area.
Malungelo, an Ophondweni resident, grew up knowing Gogo Ndlovu and describes her as selfless and loving to her grandchildren and great grandchildren and their friends. "She was fun loving and always very informative, especially about the Zulu culture. She managed to be both deeply cultural and deeply religious and did not seem troubled with the conflicts many younger people experience when they commit themselves to the Christian faith."
Rest peacefully Gogo your presence here on earth was a huge blessing.
Gogo Ndlovu is being buried today, Saturday, 26 November 2022, with the service held at the Roman Catholic Church, KwaSomkhele parish. Her body will be laid to rest at the family homestead in KwaMyeki, one of the areas threatened by Tendele mine's proposed expansion. We trust her body will not be disturbed and neither will her spirit be troubled.